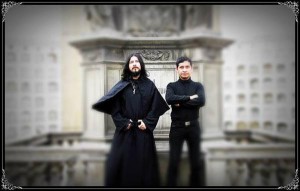 Interview: Lord Sepultus: Keyboards & Voice
Hello! Regards from Czech republic! Could you then tell us some interesting things about the circumstances of the start of your band? When and how music came into your life ?
Hello, a cordial greeting from Peru. Some things do not have a rational explanation, we could speak in terms of coincidences or chance. I always had a weakness for music, but first I ventured into poetry, since just at the age of twenty I learned to play the electronic organ. I fell in love with the keys thanks to the music of Richard Clayderman, that way I enter the music in my life.
You weren't duo from the start, am I right? Do you evaluate the current line-up as the best one?
Yes, we were a duo. Then we incorporated other musicians who shared our goals within the genre. So the current lineup is in fact the best.
I can't describe your music other than "mighty funeral metal music in his decadence cleanest doom metal form". So, the question is, where are you getting the inspiration?
The inspiration rather finds me, pulls me out of my usual comfort zone. I can be reading a fantastic book, of history, fiction, or perhaps seeing a documentary, or in a place far from the city …. and suddenly I feel inspired, the ideas converge in my brain and they are translated in music by inertia. Continue reading →